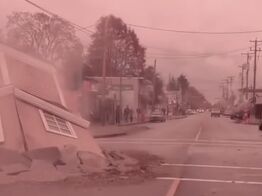 The
Underworld
is a realm on ABC's
Once Upon a Time
. It is a place where souls of the departed travel to after they die when they have unfinished business, and is identical to
Storybrooke
.
Inhabitants
Former Visitors
Trivia
The Underworld is based on the legendary afterlife from Greek Mythology.
The Netherworld is supposed a realm between life and death. In a way, the Underworld is also a sort of limbo, and the souls that go there usually either move on to Mount Olympus or someplace far worse.
Regina nicknames it "Underbrooke", due to its uncanny resemblance to Storybrooke.
Appearances
S3, E18: "Bleeding Through" (portal)
---
S5, E12: "Souls of the Departed"
S5, E13: "Labor of Love"
S5, E14: "Devil's Due"
S5, E15: "The Brothers Jones"
S5, E16: "Our Decay"
S5, E17: "Her Handsome Hero"
S5, E18: "Ruby Slippers"
S5, E19: "Sisters"
S5, E20: "Firebird"
S5, E21: "Last Rites"
Community content is available under
CC-BY-SA
unless otherwise noted.