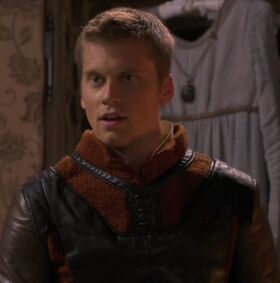 Prince
Thomas
is a character on ABC's
Once Upon a Time
. He is portrayed by
Tim Phillipps
. When the
Dark Curse
took him to Storybrooke, he became
Sean Herman
. His gallery is
here
.
Biography
Background
After meeting Cinderella at the royal ball, Prince Thomas falls in love with her and they eventually get married. However, Cinderella decides to leave when she discovers that she owes Rumplestiltskin her firstborn child. When she tells Thomas that the only way to go to the ball was for her to make a deal with Rumplestiltskin, they concoct a plan with the help of Snow White and Prince David to use magic Squid Ink to imprison Rumplestiltskin. The trap works, but as a price for not fulfilling her end of the bargain, Thomas disappears.
Season 1
He is revealed to be alive in Storybrooke under the name Sean Herman. When Ashley Boyd - Cinderella's Storybrooke counterpart - gives birth to their child, Sean reunites with her and the two enjoy the company of their newborn daughter, Alexandra. He proposes to her and they are engaged when the Dark Curse breaks.
Season 6
Thomas becomes concerned when Cinderella finds out that her stepmother and stepsister are in Storybrooke, and voices his concerns to Emma. Thomas is relieved when Cinderella is okay, with her stepmother defeated.
Family
Status: Alive
Trivia
Thomas is based on the prince from the fairytale Cinderella.
Appearances
S1, E04: "The Price of Gold"
S1, E12: "Skin Deep" 
S6, E03: "The Other Shoe"