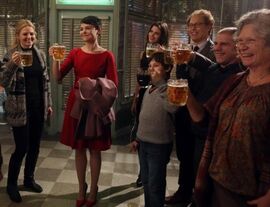 Season 2
is the second season of ABC's
Once Upon a Time
. It premiered on September 30, 2012 and concluded on May 12, 2013.
Characters
Main Characters
Other Characters
Featured Realms
Episodes
"Broken"
"We Are Both"
"Lady of the Lake"
"The Crocodile"
"The Doctor"
"Tallahassee"
"Child of the Moon"
"Into the Deep"
"Queen of Hearts"
"The Cricket Game"
"The Outsider"
"In the Name of the Brother"
"Tiny"
"Manhattan"
"The Queen is Dead"
"The Miller's Daughter"
"Welcome to Storybrooke"
"Selfless, Brave and True"
"Lacey"
"The Evil Queen"
"Second Star to the Right..."
"...And Straight On 'Til Morning"
Previous Season
Next Season