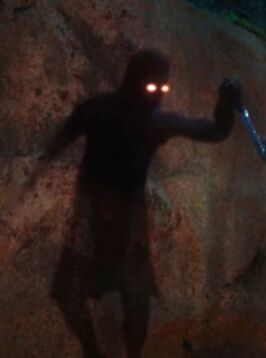 Rumplestiltskin's shadow
is a character on ABC's
Once Upon a Time
that appears as the disembodied shadow of
Rumplestiltskin
.
Biography
Season 3
Rumplestiltskin uses his dagger to cut off his own shadow, which becomes alive, then commands his shadow to hide the dagger in a location that not even Rumplestiltskin will find. The shadow does this, but when Rumplestiltskin wants it back so that he can defeat Peter Pan, Rumplestiltskin's shadow returns to Rumplestiltskin's body, thus giving him the dagger.
Family
Status: Returned to body
Trivia
The shadow belongs to the body of the imp from the fairytale Rumplestiltskin.
Appearances
S3, E02: "Lost Girl"
S3, E11: "Going Home"
Community content is available under
CC-BY-SA
unless otherwise noted.