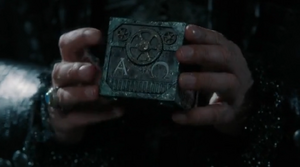 Pandora's Box
is a magical artifact featured on ABC's
Once Upon a Time
. It is rumored to contain all the world's evils, and is used to contain people inside of it.
Inhabitants
Trivia
Appearances
S3, E07: "Dark Hollow"
S3, E08: "Think Lovely Thoughts"
S3, E09: "Save Henry"
S3, E10: "The New Neverland"
---
S5, E20: "Firebird"
S5, E21: "Last Rites"
S5, E22: "Only You"
S5, E23: "An Untold Story"
---
Community content is available under
CC-BY-SA
unless otherwise noted.