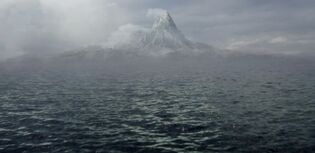 Neverland
is a realm featured on ABC's
Once Upon a Time
. It is an island realm, in which time is different there, making it so that all of its inhabitants never age.
Inhabitants
Prisoners
Trivia
It is based on Neverland from the story Peter Pan.
People can go to Neverland by either using a magic bean portal, or by travelling with the shadow.
According to Hook, Neverland had dealings with Pleasure Island.
Appearances
S2, E21: "Second Star to the Right..." (flashback)
S2, E22: "...and Straight On 'Til Morning" (flashback)
S3, E01: "The Heart of the Truest Believer"
S3, E02: "Lost Girl"
S3, E03: "Quite a Common Fairy"
S3, E04: "Nasty Habits"
S3, E05: "Good Form"
S3, E06: "Ariel"
S3, E07: "Dark Hollow"
S3, E08: "Think Lovely Thoughts"
S3, E09: "Save Henry"
S3, E11: "Going Home" (flashback)
S3, E12: "New York City Serenade" (flashback)
S3, E19: "A Curious Thing" (flashback)
S6, E16: "Mother's Little Helper"
S6, E17: "Awake"
S6, E22: "The Final Battle, Part Two"
S7, E22: "Leaving Storybrooke"