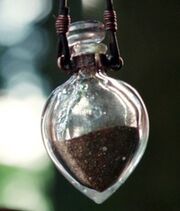 Dark Fairy Dust
is a magical item on ABC's
Once Upon a Time
. It is a dark variant of
fairy dust
, mined and used by the
Black Fairy
. Dark fairy dust also has the ability to turn people into insects.
Users
Used on
Trivia
The Black Fairy created the Dark Curse and the Black Curse by accumulating an enormous quantity of dark fairy dust.
Appearances
S1, E03: "Snow Falls" (flashback)
---
S3, E22: "There's No Place Like Home"
---
S6, E16: "Mother's Little Helper"
S6, E18: "Where Bluebirds Fly"
S6, E20: "The Song in Your Heart"