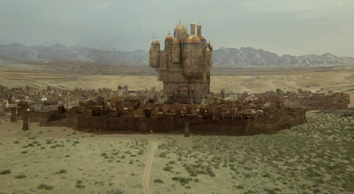 Agrabah
is a realm in the
Fairy Tale Land
, featured on ABC's
Once Upon a Time
and
Once Upon a Time in Wonderland
.
Inhabitants
Alive
Deceased
Trivia
Based on the kingdom of Agrabah from the story Aladdin.
Appearances
W, E02: "Trust Me"
W, E04: "The Serpent"
W, E07: "Bad Blood"
W, E10: "Dirty Little Secrets"
---
S6, E01: "The Savior" (flashback)
S6, E05: "Street Rats" (flashback)
S6, E15: "A Wondrous Place"
S6, E22: "The Final Battle, Part Two"
---
S7, E22: "Leaving Storybrooke"